JEWELRY and OIL COMMISSIONS
PAUL EATON bespoke jewelry            BETH DE LOISELLE miniature oil          
PAUL EATON BESPOKE JEWELRY COMMISSION PROCESS
BANGLES, PENDANTS, EARRINGS, ETC.
Commission a miniature sculpture in a bespoke Bangle, Pendant, Earrings or other Jewelry piece. Paul Eaton, an internationally renowned miniature wildlife sculptor, will not only create a work of art for you, but his craftsmanship as a silver/goldsmith ensures exceptional quality.  Paul Eaton can work with a range of options in sterling silver, 9ct, 18ct or a combination of metals.  To add a touch of elegance and individuality, your animal jewelry can be further enhanced with gems, beads or other embellishments. 
Bangles all come in small to medium or medium to large sizes.  Small wrists are up to 5 ¾"; Medium wrists are 5 ¾" to 6 ½"; Large wrists are 6 ½" 3 7 ¾". Below is a photograph of where to measure your wrist. Our bangles can be easily adjusted for a secure and comfortable fit by gently squeezing them together.
For all special order Paul Eaton jewelry. Please note that while previously carved miniature animal sculptures are plentiful and can be readily shipped, they may require 6-8 weeks for production. For new breeds and for customization, please allow approximately 12 weeks allowing secure shipping. 
Paul Eaton's animal jewelry offers a unique opportunity to own a bespoke customized piece that captures the essence of beloved pets or favorite animals.  A SPECIAL ORDER FORM is below.
BETH de LOISELLE MINIATURE OIL PAINTING with PAUL EATON BESPOKE JEWELRY
Dog & Horse Fine Art Jewelry will provide you with a price for Beth de Loiselle oil miniatures. Current pricing for a standard oil miniature on ivorine is $900.  Beth de Loiselle will look at your photographs and communicate with you about what characteristics you would like to have evident in the portrait.  Once Beth de Loiselle has everything needed, she will determine a time frame for when she expects to complete the commission.
Dog & Horse Fine Art Jewelry will also provide pricing and options for pendants, charms or brooches, etc designed by Paul Eaton. The client decides on what design, materials: sterling silver, 9ct, 18ct gold or combination of metals, and possible embellishments: gems, beads, etc. Paul Eaton will start to work on your chosen jewelry piece when Beth has completed the oil miniature.  Simple pendants can be made ahead of time with a quick turnaround, but for more involved designs Paul Eaton may require up to 6-8 weeks to make the jewelry to showcase your portrait. 
Currently Beth de Loiselle's waiting list starts January 2024 due to a previous commitment. You can find the waiting list on the SPECIAL ORDER FORM below or just email us.
You will have a very special keepsake and be able to Wear Your Art!
SPECIAL ORDER FORM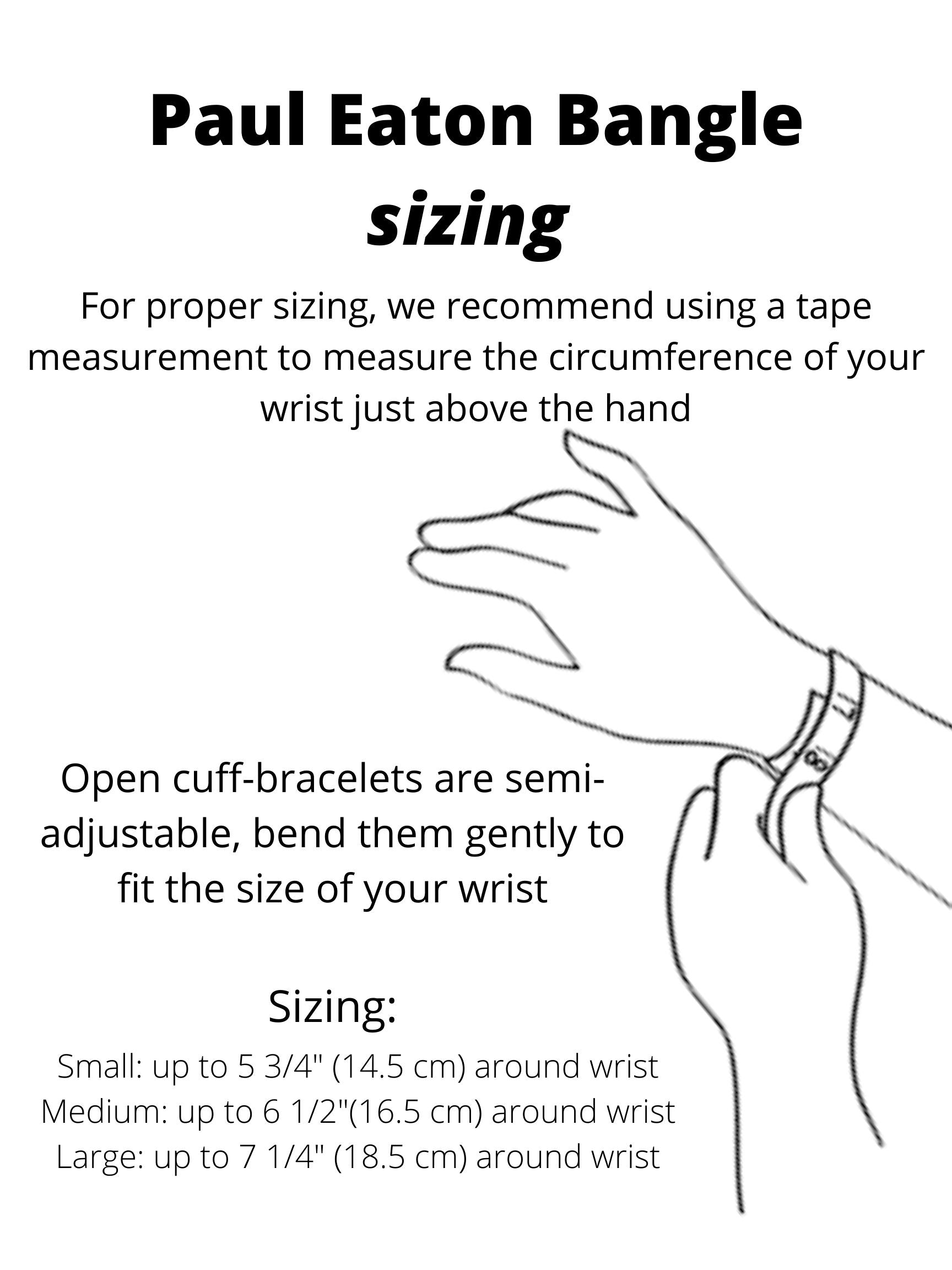 How to Measure for Bangles Sizes
Bangles all come in small to medium or medium to large sizes.